4 Ideas To Make Best 4th Doctor Cosplay
05/08/2020 | CosDaddy
You might be looking for the cosplay that will enhance your look. What do you think of 4th Doctor cosplay? Here we offer 4 ideas to make best fourth doctor cosplay. Follow me to find the Doctor Who cosplay you love!
4th Doctor Red Coat
Fourth Doctor was commonly peace-loving and kind-hearted. 4th Doctor red coat highly represents his personality.
1.
4th Doctor Dark Red Cosduroy Coat


This 4th Doctor dark red corduroy coat is one of the fantastic 4th Doctor red coat that everyone can get dressed with for the authentic look of 4th Doctor. Next let's read a piece of customer review on this Fourth Doctor coat. "First of all I had to commission CosDaddy to make accuracy adjustments to their season 12 jacket. They matched every request I made and even until the end when I asked for a color adjustment to a dark red they did it. It's a wonderful jacket from a wonderful company, so well made for the price. Couldn't be happier. CosDaddy's communication is excellent and they really do want to help you make these as accurate as you want them to be"-----Scott Martin.
2.
4th Doctor Double Breasted Coat

Even though fourth Doctor is not as good-looking as other Doctors, but he has his unique charm, just like this 4th Doctor double breasted coat. Overall the design is simple, it is a dark red velvet coat with three large buttons on each side. Actually Fourth Doctor coat not only feels comfortable, but also looks classy to improve your charm. All our costumes you see are top quality custom-made by our tailors with top sewing facilities, unique fabrications, laces and trims from over 200 resources. We have what you are looking for and more!
3.
4th Doctor Burgundy Trench Coat


Try this 4th Doctor burgundy trench coat, it is one of the superb fourth Doctor coat that everyone can attire during different events. So, have it to enhance your appearance and be a charm of the day! Also, if you need more Doctor Who cosplay ideas, check out article: 10 Best Doctor Who Halloween Costume Ideas.
4.
4th Doctor Dark Red Trench Coat


If you are a trench coat lover and seeking for another red trench coat, we recommend 4th Doctor dark red trench coat. Most Doctor Who fans have already brought fourth Doctor to life. Now let's have a look at some of their great works.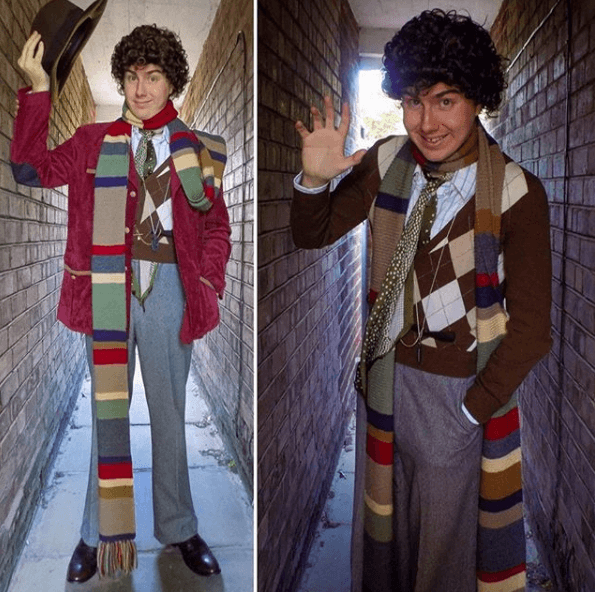 Fourth Doctor cosplay is an awesome choice. Even more awesome is to invite your friends to join Doctor Who cosplay and dress up as all the Doctors appear in the Doctor Who TV series. Of course you and your friends shouldn't be limited by the Doctors. Your friends can dress up as anime cosplay, such as My Hero Academia cosplay. CosDaddy has a variety selection of Halloween costume for you to choose. We're sure that you and your friends will find ideal cosplay that you love here!