CosDaddy® For Childern Wonder Woman Diana Prince Battle Suit Cosplay Costume
Fabric:PU
Including: As shown Without Prop
Tailor-made in your own measurements.This costume can be made for both adults and children.
Fighting super villains isn't a job for everyone! It takes the wisdom of Athena, the strength of Zeus and the grace of Aphrodite. Of course, a few cool accessories made compliments of Hephaestus never hurts either! Normal girls probably can't just give the Greek pantheon of gods a call to bestow them with some powers and equipment, but that's why you have us. With our costume know-how and your own courage and force of will, you'll be ready to transform into DC comics' greatest super-heroine of all time!
This Woman's Grand Heritage Wonder Woman Costume is a high quality outfit that recreates Gal Gadot's look from Batman v Superman: Dawn of Justice. With shiny metallic reds and shimmering blues each piece of this costume captures the powerful and daring Amazonian warrior-princess style. Small touches, like the attached gold belt around the waist and gold armor detailing on the bust-line that is shaped like a bird, add a fierce, yet regal look to the superhero ensemble. Of course, no Wonder Woman costume is complete without a pair of bracers as protection from projectile attacks, so don't forget to strap them on before a big battle against deadly villains. Of course, the one included with this costume may not hold up to a laser beam attack from Doomsday, so use caution while wearing them! Once you're all suited up, you'll be ready for a team up with Batman and Superman. Heck you may even be ready to start up a Justice League of your own.
If you choose "Custom Made",please email us the Gender,Height,Weight,Chest,Waist and Hip.Thank you!
FEMALE SIZE CHAT(in

/

cm)

Female

Height(in

/

cm)
Chest(in

/

cm)

Waist(in/cm)

Hip(in/cm)

XXS

59/150

30-31/76-79

22-23/56-58

32.5-33.5/83-85

XS

61/155

32-33/81-84

24-25/61-64

34.5-35.5/88-90

S

65/165

31-35/86-89

26-27/66-69

36.5-37.5/93-95

M

67/170

36-37/91-94

28-29/71-74

38.5-39.5/98-100

L

69/175

35.5-40/98-102

30.5-35/77-81

41-42.5/104-108

XL

70/178

41.5-43/105-109

33.5-35/85-90

44-45.5/112-116

XXL

72/183

44.5-46/113-117

36.5-38/93-97

47-48.5/119-123

XXXL

73/185

47.5-49/121-124

39.5-41/100-104

50-51.5/127-131
MALE SIZE CHAT(in

/

cm)

Male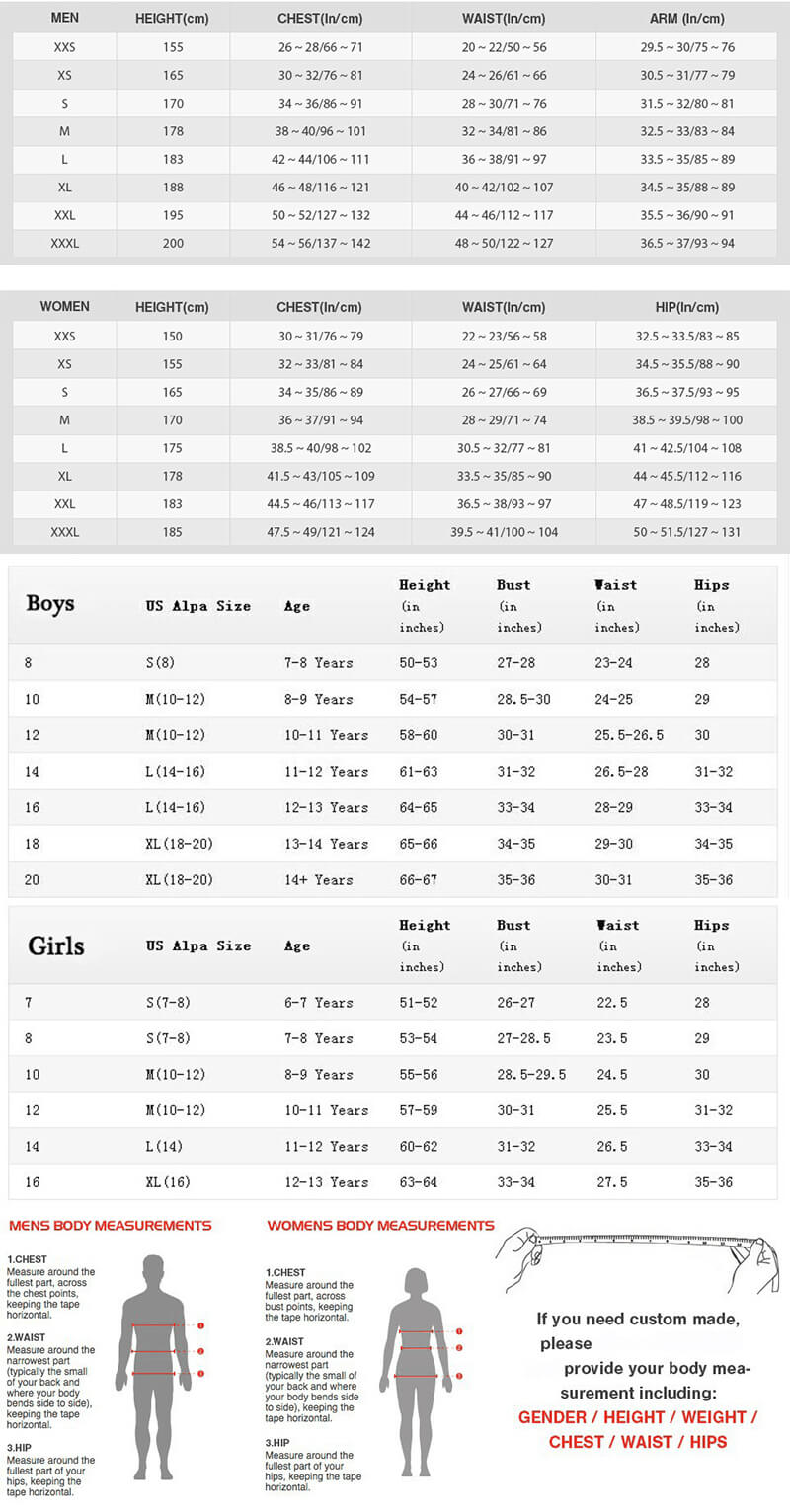 Use spaces to separate tags. Use single quotes (') for phrases.