3 Ways to Make Best 13th Doctor Cosplay Guide
15/07/2020 | CosDaddy
13th Doctor Cosplay has been paid more attention by Doctor Who fans. No matter female or male fans, they all try to be 13th Doctor. Therefore we'd like to share 3 ways in this 13th Doctor Cosplay Guide for you to find your ideal Doctor Halloween costume. Keep scrolling and you'll definitely find what you're looking for!
Contents

*13th Doctor Outfit
*13th Doctor Coat
The Doctor has regenerated 13 times, and for the first time it regenerates as a woman. Like her appearance, 13th Doctor costume is also separate from the Doctor's previous reincarnation. First of all let's have a look at the typical outfit that the 13th Doctor wears.
13th Doctor Outfit


13th Doctor outfit consists of blue pants with yellow braces, a dark blue t-shirt with a rainbow stripe across it. 13th Doctor is incredibly lively, warm, funny and energetic. This outfit design perfectly demonstrates strong positive vibes that 13th Doctor brings to Doctor Who fans. 13th Doctor outfit is not only comfortable for casual, but also for dressy looks.
13th Doctor Coat


After viewing 13th doctor outfit, now check out 13th Doctor coat. Typical 13th doctor coat is a light grey hoodie trench coat with blue lining, a black line on the wrist area and a thick black outline at the bottom tip of the coat. 13th doctor coat is not meant to be just a cosplay coat that makes you look elegant at Halloween party, it also works perfectly for daily wear to protect you from cold days.
CosDaddy New Version 13th Doctor Coat


For those who always seek for novelty, CosDaddy will definitely satisfy you. Notice our New Version 13th Doctor coat, you'll find we add rainbow stripes in the lining. That perfectly match 13th Doctor outfit which also has rainbow element. You can also more related Doctor Who costume ideas from our other blog: How To Buy Best 13th Doctor Cosplay Or 7th Doctor Cosplay?
13th Doctor Cosplay Collection
Since the reveal of Jodie Whittaker as the 13th Doctor on the BBC TV series Doctor Who, fans have been putting together their own inspiring 13th Doctor Cosplay.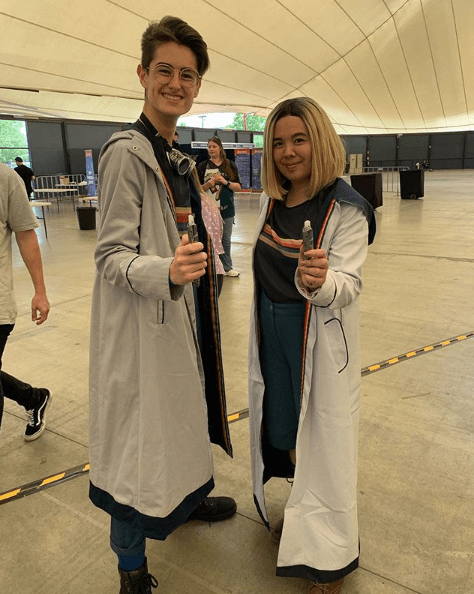 Even though 13th Doctor is female and it inspires more female cosplayers, but there is no gender limit as usual. More and more male cosplayers are also joining 13th Doctor cosplay. Instagram user@aussieclara has shared an interesting photo from a con she attended. Same 13th Doctor costume, same gesture, and same smile to the camera, just different gender. However, both of their cosplay fit them well.
In addition, I will share more about the 13th doctor cosplay, costume from cosdaddy.com.Follow up!








Looking at the above customer sharing, I guess you would like to see more customer review, I will provide more 13th doctor coat review to facilitate you to understand the quality of our cosplay costume more clearly,keep reading.
Absolutely fantastic! The quality of this is incredibly good, it's comfortable, and each piece is suitable for everyday wear if you want to incorporate them into your general wardrobe. The pockets are real, and very deep. The service was impeccable, I would absolutely recommend.-----
Meg
Honestly not a lot to say about this costume other than it is spot on accurate and I have no faults with it I highly recommend for all 13 cosplayers------
Callum
I bought this coat for my girlfriend to cosplay the latest Doctor. We sent her measurements in as it was a custom sized order. When it came the look and feel of the coat is firm but comfy. It is a lot better made than many of the cheaper ones out there and well worth the price. Colour matched to Jodie's costume on the show and it hangs really nicely weight wise. Would recommend to any potential fans looking at this option, rainbow ribbon detail on the edge sets it off a treat.----
IAN BEALE
Absolutely love this I purchased and it took over a week to arrive but it was worth it, lovely material, fits perfectly and just love it. Only annoying thing is it was bit creased but I suppose that's because it was in transit, apart from that will definitely buy from here again.-------
Jaye Marston
If you want to see more doctor who cosplay ideas,please look at this video below.



How To Make Your Time Traveler Dream Come True?
13th Doctor cosplay is absolutely the one you should not miss it out, it's more than recognizable when dressed up with 13th Doctor outfit and 13th Doctor coat. What are you waiting for? CosDaddy provides you best doctor Halloween costume, top quality tailor made costumes at greatest prices. What's more, you can customize your cosplay, all your special requirements will be satisfied to achieve the best cosplay effect you expect! Got excited? Buy Doctor Who outfits and Doctor Who coat from us, it's a chance to make your time traveler dream come true!